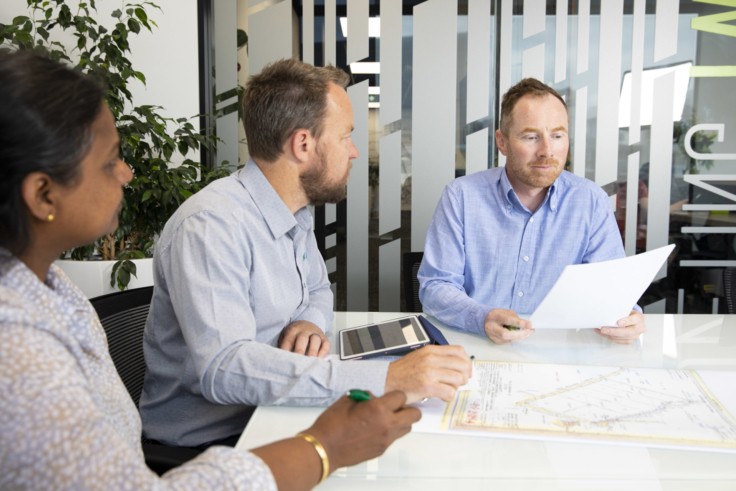 Join our team
We are land development experts, driven to unlock the potential in property. We simplify the land development process and maximise our client's opportunities wherever possible.

If you are a savvy thinker who wants to be part of a cohesive team, we want to hear from you.

Please send a cover letter and CV using the link below.
Email us today
Intermediate Civil Engineer
We'll pay $10K to find and keep the right experienced Intermediate Civil Engineer.
Baseline Group is a South Island based multi-disciplined land development consultancy, specialising in resource management planning, surveying and civil engineering. We are currently seeking an experienced Intermediate Civil Engineer with at least 5 years' experience, including the civil engineering design of subdivisions and other land development projects.
This role will suit someone ambitious looking for a challenge in growing their skills. It will not be right for many, which is why we are offering a $10K bonus, payable when the chosen person has held the role for 12 months. This incentive is offered to either the successful applicant (if applying directly) or as a 'finder's fee' for the person who makes the introduction. The position also comes with a competitive salary and employee benefits.
The role requires:
Preparing civil engineering design of wastewater, stormwater, potable water, earthworks, and surface drainage networks.
Assessment and analysis of catchment variables and undertake calculation modelling of fluid networks.
Preparation and understanding of tender documents and supporting information for NZS3910 contracts, and civil construction techniques and cost estimates.
Producing design and drawings using AutoCAD civil 3D; Microsoft Office skills are also necessary.
Monitoring site works and act as the engineer's representative to contract.
Confident and competent interactions with clients and contractors (and colleagues); ability to understand client requirements and provide design solutions.
Preparation of reports to support engineering design, resource consent applications or other disciplines.
Site investigations.
Building relationships with local authority staff to resolve engineering issues.
A strong track record of managing time frames and meeting deadlines.
Reporting directly to the Engineering Team Leader and working within our established engineering team.
All applicants need New Zealand residency or hold a valid work visa. Please email Hayley (below) with your CV and cover letter or details of your prospective candidate.
Please email your CV and cover letter to us